Three years ago the NBA world was a different landscape, LeBron James, Kevin Durant and Kobe Bryant ruled the basketball merchandise world and were far and away the NBA's most popular players. Stephen Curry was seen as a second-tier marketable athlete in spite of leading the Golden State Warriors to the western conference semi-finals and scoring 54 points in Madison Square Garden the year before. It is important to be aware of these circumstances, as when you view the prism of Steph Curry's popularity and connection with young basketball fans across the world in 2016, it seems absolutely insane that Nike would ever not prioritize a player of his caliber. That is exactly what happened according to a story by Ethan Sherwood Strauss on ESPN.com today.
In August of 2013, a meeting took place between Stephen Curry, his father Dell Curry and Nike Executives on the second floor of the Oakland Marriott, the meeting was about renewing Steph Curry's shoe contract and sponsorship with Nike.
As you can surmise the meeting wasn't Nike's best, as Dell Curry recounts in today's story on ESPN.com that Curry's retainment as a Nike athlete wasn't high priority business for Nike.
According to Dell, Nike didn't send power broker Lynn Merritt for the meeting instead sending Sports Marketing Director Nico Harrison, who managed to mispronounce Stephen Curry's name, calling him "Steph-ON" and having the audacity to present a PowerPoint presentation featuring Kevin Durant's name in lieu of Steph Curry's.
Tisk tisk Nike.
It was also reported that Steph Curry stated his desire to host a Nike sponsored youth camp during the summer, something that he had taken part of when he was younger at a Chris Paul sponsored camp. Nike instead chose to give a camp to up and comers Kyrie Irving and Anthony Davis, but not Curry.
According to the story, Dell convinced his son to "try something new" and move on from Nike after the underwhelming meeting. Steph decided to sign with Under Armour in October of 2013.
According to a financial report from Morgan Stanley this month, Under Armour shoe sales have risen by 350% thus far in 2016 and Curry outsells every current NBA athlete in shoes and apparel sales, only trailing Michael Jordan. According to CNN Money, the company anticipates a 25% increase in shoe sales in 2016. They made over $4 billion in shoe sales in 2015 compared to Nike's $33 billion, but the gap is closing.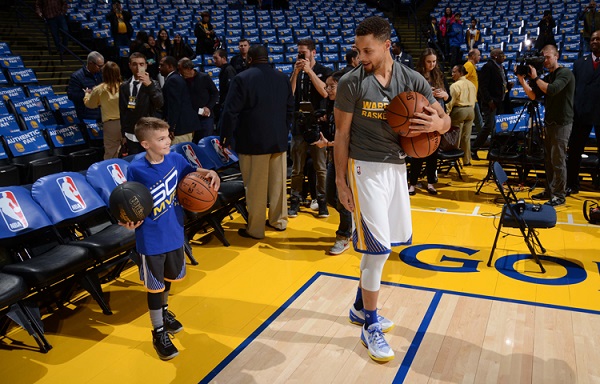 Curry is reportedly worth upwards of $14 billion to Under Armour and is signed with them through 2024.
Nike's one big coup and decision that helped them evolve the athletic shoe and apparel industry into a multi-billion dollar business annually was deciding to put their entire company behind Michael Jordan in 1984, however blowing a chance to keep Curry as a Nike athlete could be the one huge mistake that could change the industry landscape and reverse their market dominance.
Being the behemoth that Nike is, they overlooked Steph Curry's as a highly marketable athlete because he didn't look like your typical 6'8″, 250 pound superstar, instead he was a scrawny 6'3″ youthful looking every man that you could see or play against at your local gym. Ironically, this is part of the appeal that has made Steph so relate-able to kids. His jump shot doesn't hurt either.
It is fascinating to get a behind the scenes look at what caused Steph Curry to leave Nike in 2013.
The reigning NBA MVP and World Champion will always haunt Nike as the cash cow that they let slip through their fingers.